I DO BUSINESS. is a social purpose business driven by a passion for contributing to the well-being of people, our planet, and the future generations to come. We believe that by helping people to do good business, we can help increase the well-being and prosperity of individuals, communities, and the country.
---
---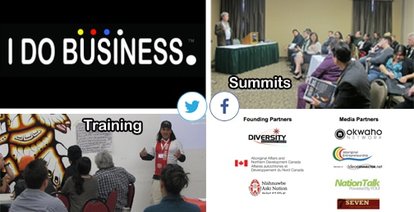 What is good business?

Good business means seeing a problem and applying yourself to help fix it

Good business is well thought out and based on a solid plan

Good business makes a positive difference for others, for our world,
and for future generations

Good business is sustainable

Good business builds strong communities

Good business means financial independence

Good business is built upon relationships that are based upon respect,
mutual understanding, and trust



How do we help you do good business?
We provide people with the training and supports to access the knowledge, skills,
and resources needed to grow good businesses and build effective professional relationships. We celebrate and stimulate the growth of businesses and communities through community development projects, entrepreneur and corporate training, and collaborative consulting services. We strive to build entrepreneurs, to grow companies, and to create thriving business ecosystems across Canada.

Who do we work with?
Our services and programs are designed to benefit individuals as well as organizations of all sizes. We work with emerging and established entrepreneurs, large corporations, small businesses, non-profits and government departments.

I DO BUSINESS. increases prosperity by building meaningful partnerships based on mutual respect, creating positive change for individuals, communities, and the world we all call home. We collaborate with community leaders, government at all levels, non-profit organizations, and corporations to help good business grow!

---
---

Receive information about upcoming events, contests and much more!

---

We support the 94 recommendations for

Truth & Reconciliation.

Learn more here